Hardly anyone makes it here. That's because, after leaving the Tblisi road, it's a lengthy drive on an unmade single track that twists so sharply and rises so quickly that 68km takes five hours.
But if you can stomach the journey, the Tusheti region of Georgia, up in its remotest corner bordering the Russian regions of Chechnya and Dagestan, is worth it. It's a pristine paradise of pine-covered mountains, deep valleys and mysterious towers. For our few days there, time stood still.
When we were planning the trip, a guide told us: your money is no use here and in a way she was right. There are no shops. No hotels. No tarmac roads. No mains electricity. No taxis, and no bars. Just a few villages linked by footpaths and horse tracks. One other snag, or advantage, depending on your point of view: winter comes early and it makes the road impassable between October and May. So for eight months of the year, only about 20 people stay in these mountains. Then in the short summer, over 2,500 Tush return to raise sheep, make cheese, ride horses, and, increasingly, host tourists.
We walked for two days and rode horses on the third, from one tiny village to the next, through forests of Colchis pine, steep slopes of blue scabious, salvia and dog rose. Some tracks are marked, others not so much – though a visitor centre in the biggest village, Omalo, provides maps.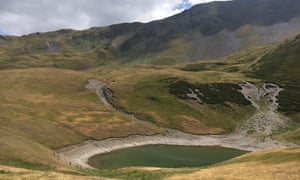 It was August and I'd joined three female friends from three countries for this trip. We were picked up from the capital, Tbilisi, in a four-wheel drive Toyota by the informative Roman, who had arranged the route, full-board in immaculate village guesthouses, and a guide, Lasha. The four of us walk together every year and had never had a guide before, but we didn't regret it – and not just because Roman and Lasha were so helpful.
There are still wolves and bears in Tusheti. They were unlikely to bother us, but they do menace the vast flocks of sheep brought up from the plains in May. The sheepdogs don't distinguish between packs of wolves and groups of walkers. By lunchtime of our first day, Lasha had adopted a couple from Heidelberg who had been terrorised by three growling beasts. Lasha armed himself with stones and we felt safer.
https://consolatonorariogeorgia.com/wp-content/uploads/2018/05/4320.jpg
735
1225
staff
https://consolatonorariogeorgia.com/wp-content/uploads/2018/04/logo2.png
staff
2018-05-02 15:42:22
2019-05-31 13:19:37
ENG: Georgian splendour: trekking in the Caucasus